Somerset Boat Centre offer the following lessons. Please use the calendar to the right to change month for availability.
Paddleboard Yoga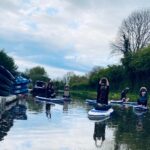 Are you searching for a sport that improves both your physical and mental health? Paddleboard yoga can offer both along with a load of enjoyment, whilst connecting with nature.
✬ Increases strength.
✬ Activates vitamin D.
✬ Increases happiness.
✬ Improves focus.
✬ Improves quality of sleep.
✬ Provides time for bonding and socialising.
✬ Allows time for reflection
£16.00 per person Sessions start at 18:30 and include a warm up paddle to get familiar with the boards, you will need to arrive at 18:15 if possible to allow time to get on the water.
Paddlesports Lessons and Guiding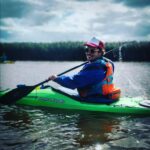 At SBC we offer a range of paddlesport lessons and guiding opportunities to suit every individual from beginner to advanced. We look to provide bespoke sessions to suit the customer no matter what their need. Whether you are a family looking for a guided canal paddle or a keen kayaker looking to learn to roll – we want to hear from you!
One to one lessons – £25 per hour plus standard boat hire.
Two to three participants – £15 per hour plus standard boat hire.
Four to eight participants – £10 per hour plus standard boat hire.
Eight or more participants – please enquire for a quote.
For all booking and general enquires relating to paddlesports lessons and guiding, please email ollie@somersetboatcentre.co.uk